Bridge Components
Including anchors and ring nuts, bearing plates and guide pipes, anchorage assemblies, cable sheathing and cable support posts. Learn more »
 High Temperature Applications
AMECO USA provides machined and engineered components to manufacturers of heat treating furnaces and equipment. Learn more »
Power Generation Equipment
We provide design and build services for smokestack and tower ductwork, smokestack bases and machined scrubber trays. Learn more »
Steel Mill Equipment
AMECO USA is your source for molten metal containment vessels and heavy steel plate fabrications and engineered products. Learn more »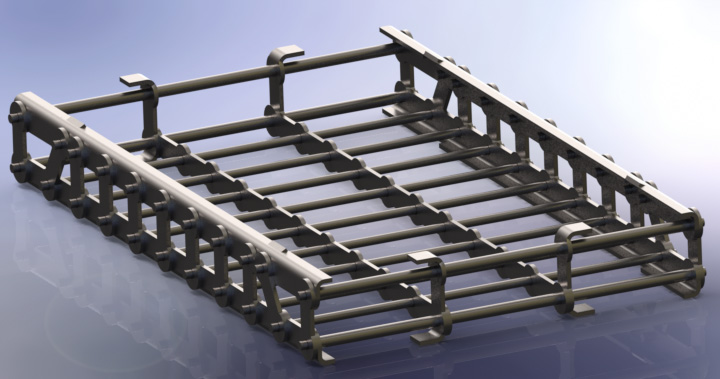 Weldless Heat Treating Baskets
Introducing some HOT new ideas! The patent pending AMECO line of Weldless Heat Treat Baskets & Fixtures
Manufacturing Marvels
AMECO USA was recently featured on Manufacturing Marvels on the Fox Business Network. Highlights include our work with decorative architecture, stay cable bridge components, and the heat treating industry.
Our work on three large-scale aluminum art works designed by Santiago Calatrava is also featured in Crain's Cleveland Business. These pieces will be up to 18' tall and 36' long and will be erected on a Park Avenue exhibit in New York City in early 2015.
---
Services
AMECO USA is a metal fabrication solutions provider specializing in innovative methods to design and build engineered products.
Learn more about our services »
---
Orion: Trial By Fire
NASA's Orion Human Space Exploration
Crew Vehicle
On December 5th, 2014, NASA marked a major milestone on its journey to Mars as the Orion spacecraft completed its first voyage to space, traveling farther than any spacecraft designed for astronauts has been in more than 40 years and through temperatures twice as hot as molten lava to put its critical systems to the test.
Contact AMECO USA
AMECO USA can help you design and build your next fabricating project and deliver it on-time and on-budget.